Posted on 11 October 2019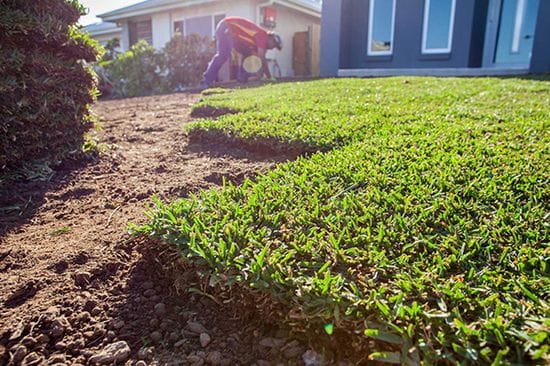 Measuring your site
Learn the basics of measuring your site with these four easy steps.
Sketch your site

Divide into areas

Measure

Do the math
Step 1: Sketch your site
Using pen and paper, replicate your site as a basic line drawing. It only needs to be a concept drawing for you to note the measurements you're about to take.
Step 2: Divide into areas
If your site features multiple sections, bends and / or curves, divide them into suitable sections as rectangles.
Step 3: Measure
Using a tape measure, record the actual length and width of each section, as indicated on your concept drawing.
Step 4: Do the math

Using the length and width, calculate the square meterage of each section by multiplying them together. Now simply add the sum of all sections together to discover your total area in m2.
New lawns
Find out the best way to prepare your brand new site for a new lawn.
Clear your site

Apply new top soil

Soil Compaction
Clear your site
It's common for construction materials, rocks, weeds and rubbish to be left on a house construction site.
It's important to clear your site of these items, as they can influence the growth and long-term quality of your new lawn.
You'll also need to apply a glyphosphate herbicide to the site, like 'Roundup' or 'Zero'. This will kill off any weeds present in the soil and create a healthy base for your new lawn.
Apply new top soil
Your new lawn relies on a number of vital nutrients to help it grow, all of which can be found in a quality top soil or sandy loam - available from your local landscape yard.
You should apply enough soil for a 50 - 100mm depth coverage across the entire site. Next, you'll need to spread the soil across the site using a bobcat, dingo or shovel - depending on the size of the site.
Soil compaction
Your new layer of fresh, quality top soil needs to be lightly compacted. Use a lightweight lawn roller, or the back of a spade - ensuring the result is a smooth, even compacted surface.
We also recommend applying a lawn starter fertiliser to your site to provide additional nutrients, giving your new lawn the best possible environment to establish and thrive.
Replacement lawns
Follow this step-by-step guide on lawn replacements to give your new lawn the best start.
1. Clear your site
2. Apply new top soil
3. Soil compaction
Step 1: Create a blank canvas
Remove any existing rocks, weeds and rubbish and apply a glyphosphate herbicide such as 'Roundup' or 'Zero', to the entire site.
These products will kill all existing grass and weeds and prevent them from growing through your new lawn.
Step 2:
Recycle Existing Soil
Your new lawn relies on a number of vital nutrients to help it grow, all of which can be found in a quality top soil or sandy loam - available from your local landscape yard.
You should apply enough soil for a 50 - 100mm depth coverage across the entire site. Next, you'll need to spread the soil across the site using a bobcat, dingo or shovel - depending on the size of the site.
OR

Remove and replace existing soil
If your site contains hard, rocky, low quality soil and you suspect this contributed to problems with your previous lawn it is worth replacing the entire area with a new, quality top soil.
Use a bobcat, dingo, or shovel and wheelbarrow to complete the removal process.
Step 3: Prepare your top soil
We recommend your new lawn has at least 50 - 100mm of clean, high quality topsoil as a foundation.
Before you lay your lawn, ensure your prepared area is smooth, compacted and level, with no shallow spots.
Leave approximately 35mm from the top of your soil, to the bottom of paths and garden edges.
---
Posted on 11 October 2019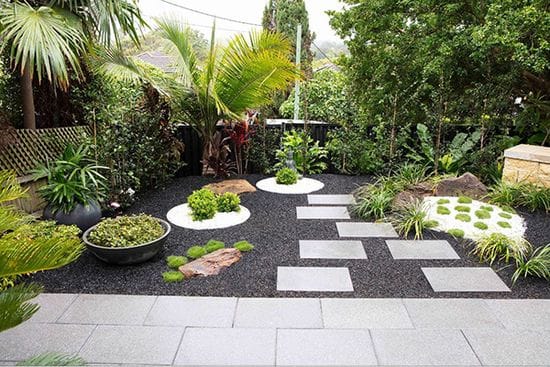 WHAT IS A ZEN GARDEN? AND WHY YOU NEED ONE IN YOUR LIFE!
A Zen garden is the escape within your property. You've heard of "staycations" where you holiday within your own city, well Zen garden takes that up a notch and encourages escapism at home.. It is an easy to maintain and easier to enjoy living space within your abode where you can relax and reboot. The Zen garden is perfect for those with a busy lifestyle, providing a breakout area away from air conditioning, artificial lighting and the endless screens and distractions of the other rooms in the house.
What are the key features of a Zen garden?
It wouldn't be very zen if you needed to spend hours each week working in it! The key feature of the zen garden is that is it easy to maintain.
Minimalism is a popular look for Zen and Japanese inspired gardens but don't mistake minimalist with bare. The garden will have lots of features and contrasting textures like stones and pebbles, greenery, often plants in pots as well as concrete paver stepping stones to ensure they perform well in an outdoor environment.
You don't need a lot of space
Out of all of the trends identified in the Adbri Great Australian Backyard Survey, the Zen garden is perhaps the most versatile as any existing canvas can be used to create the look. The Zen garden lends itself to smaller spaces and asks for an appreciation of space with good design ideas that is reflective of true Japanese style gardens. While flat land will be easiest to work with for putting down your pavement or steppers, fantastic Zen gardens can be created with subtle level changes. If you're working with slopes, consider retaining walls with step downs to create different levels.
How to get the look
Like every well planned and classy themed garden, you need a space from which to enjoy it! Set the scene with a series of stepping stones, surrounded by decorative stone or mondo grass, that leads you to a simple paved patio area featuring a small dining setting and some green tea to enjoy the view.
What type of plants should I use?
When considering a Zen garden DIY project, you want to keep it as simple and effective as possible. Try to aim for a patterned look, whilst avoiding straight lines in paving step stones and embracing odd numbers and sizes. Utilising mid to dark grey concrete pots or black feature pots of all sizes can help to create this look and makes aftercare a breeze. As for the plants, think of planting green and gold foliage, and look for a variance in tones and textures of the greenery, i.e. take a look at the leaves.
I need to create a paved area to enjoy my garden
While a solid patio area is great for practicing yoga in your garden, the stepping stones are the most important part to get right in creating the overall masterpiece! Stepping stones are on trend and uphold the traditional Japanese style of the Zen garden. When laying the stepping stone pavers try to avoid your desire for neat, formal lines, and stagger the stepping stone pavers for an 'offset' feel.
When choosing an appropriate stepping stone, a solid concrete paver is a good choice. Pick a product with a light texture so it exposes the aggregates (small stones), within the paver, and sets off the decorative stone used throughout your garden. Personal preference suggests that you take a look at the Euro Stone pavers as they provide a great slip resistant surface.
Finish the look with some trendy furniture
When styling your furniture to suit the Zen feel of the garden, keep a minimalist mindset. Small settings work best in Zen gardens, as it's somewhere to relax, recharge and escape - not the entertaining hub of the entire neighbourhood. Try to reserve this space for you to enjoy with family or smaller gatherings to keep the peace in your garden.
Posted on 11 October 2019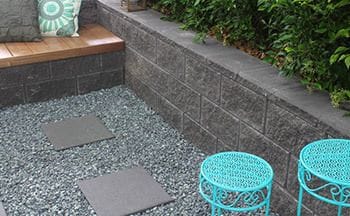 Choose the right paver style for your project
While Adbri Masonry pavers are suitable for a variety of applications, the truth is that some will perform better in certain applications. Before you get started, here are a few things for you to consider when picking the right paver for your project.
How are you using you pavers - For vehicles or people?
Arguably the most important thing you will need to consider is the type of traffic your pavers will be exposed to, either pedestrian or vehicular. If the project is for vehicular traffic (a driveway for example), the paver will need to be a minimum of 50mm thick and small format, unless you intend to install the pavers on an engineer designed concrete base.
Frequency of use
Consider the location of the pavers and the expected frequency of use. If your pavers are going to be used regularly in a highly visible area of your home like a new entertaining area, it's important to consider a quality solution that will compliment your home. If they are to be used around a pool, it's vital to choose a Euro® range paver as they are the only Adbri pavers suitable for use in saline environments.
Size and shape of the area
The size and shape of the area to be paved is an important consideration for a number of reasons. Firstly, some pavers are well suited to certain spaces as they are easy to work with. As an example, large format pavers can make smaller spaces appear bigger a great design hack!
The shape of the area is also a vital consideration as it may mean that you need some cut pavers this involves the use of a brick saw which requires caution when operating. Paver size choice can reduce the number of cuts you may need (if any) so it is well worth considering. If you aren't comfortable using a brick saw, look at pavers and designs that can reduce the number of cuts you require.
Popular paving patterns
There are a number of different paving patterns you can choose from which can assist you in choosing pavers based on the shape of the paver, i.e. square or rectangular. Some important points to consider when picking a paving pattern are:
Some patterns will require cuts (brick saws require caution when operating)
'Stretcherbond' and 'Stackbond' are considered the most DIY friendly as these styles require minimal cutting and leave little wastage
On a flexible base (compacted road base and sand), pavers must always be laid with a 3mm gap to avoid the edges from chipping
Finding your desired colour and texture
Another important consideration is the colour and texture you require for your paving. If your paving project is an entertaining area, courtyard or a patio, the colour and texture are important as they will set the scene for the entire area. Consider which paving colour will best compliment your existing space by matching roof tiles, guttering or bricks/render.
You can view our entire paving range HERE - or if you have any questions about your project, get in touch with our team on (07) 5593 7421.