Sir Walter DNA Certified Buffalo Grass is Australia's favourite lawn; it's easy to maintain, stays green all year round and is very drought tolerant. Characterised by it's broad leaf and thick root system, Sir Walter forms an incredibly soft top layer, creating a cosy and comfortable foundation for your outdoor living space. Ideal for homes with children, family pets, shaded areas and sunny backyards, Sir Walter is the most versatile lawn option for the Queensland climate. Look forward to spending quality time outside, with this worry-free luxurious lawn!
DROUGHT TOLERANT
Drought tolerance is one of the major qualities of this luxury lawn. Designed to thrive on very little water, this is one turf variety that will withstand a drought, or drought like conditions. The fact that Sir Walter DNA Certified requires less water than other varieties, gives you a peace of mind of it's ability to survive under tough conditions.
FULL SUN AND SHADE TOLERANT
Shade from trees, fences or structures won't restrict successful growth as it requires only 2-3 hours of full sun per day. If you currently have an established garden, or are planning to landscape your outdoor space, rest assured Sir Walter DNA Certified will fit in perfectly, full sun or shade. Your new lawn should complement your surroundings, not restrict them!
SELF REPAIRING
A self repairing lawn makes your life easier, through it's ability to self repair damaged and worn areas. If reliability and performance are important factors to you, than Sir Walter DNA Certified is the best choice. Following periods of stress and extreme weather conditions, this is one lawn variety that takes the worry out of lawn care, giving you peace of mind.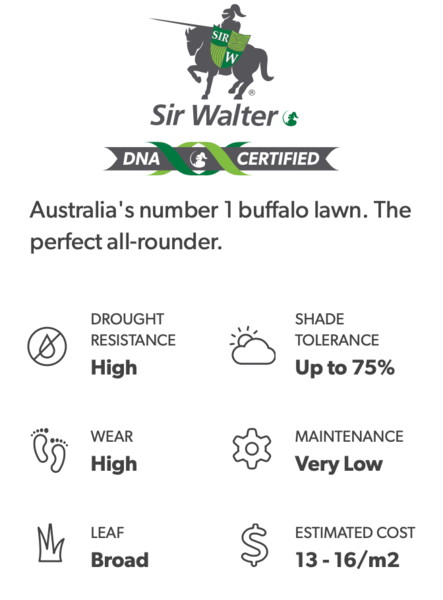 Price: $14.60m2